Meet The Barto Chiropractic Team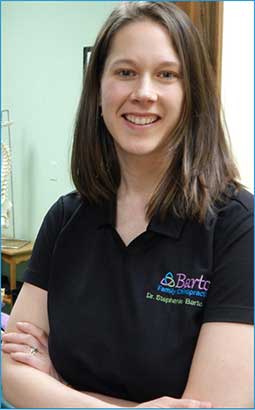 Proud Mom, Wife, and Owner of Barto Chiropractic
Dr. Stephanie Barto is a western Pennsylvania native and grew up near Punxsutawney, PA. She now resides in Plum, PA, the town in which her mom grew up. While participating in several sports in high school, Dr. Barto saw first hand the role chiropractic had in her sports performance and health. She was fascinated with the extremely positive effect chiropractic had on her exercise-induced asthma, and she knew upon graduating from high school she wanted to become a Chiropractor so she could fully understand why the body becomes sick and how to address these issues naturally, without the use of medication (and the accompanying side effects), and prevent further problems from occurring.
After completing her undergraduate degree in Clinical Dietetics and Nutrition at the University of Pittsburgh, she immediately began her matriculation at Logan College of Chiropractic in Chesterfield, MO. While at Logan, Dr. Barto was involved with the latest sports rehabilitation techniques and oversaw the treatment and recovery of elite collegiate and Olympic athletes.
Dr. Barto is a mom to three beautiful children, Xavier, Autumn, & Charlotte. Xavier was birthed naturally through the midwife center in downtown Pittsburgh. Autumn and Charlotte were planned home births. Dr. Barto breastfed each of her children and enjoyed the benefits of babywearing and other attachment-parent techniques. She believes all women (and dads!) are entitled to informed consent and support in their birthing and parenting decisions. She aims to provide invaluable information and support to the families who trust her with their care.
In practice, Dr. Barto utilizes a variety of techniques–manual, instrument-assisted, and table-assisted–to help her patients achieve their full potential. She also uses her education in nutrition and sports science to help families adapt successful lifestyle changes to achieve their best possible health and quality of life.